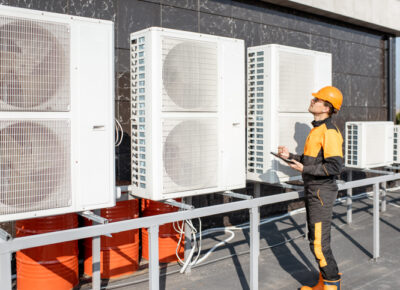 Elite HVAC is here to provide your South Jersey commercial HVAC services, whether you need HVAC system installation, repairs or maintenance. We are based in Voorhees, and we provide HVAC services to office, retail, and industrial business owners throughout Cherry Hill and neighboring South Jersey towns.
If you're a business owner, you may have experienced the uncertainty regarding your building's HVAC system, and being in the dark about whether the problems are because of faulty equipment or faulty service. You have enough to do without having to become an HVAC expert and figuring out if you're overpaying for services. If you are repeatedly experiencing issues with your air conditioning and heating systems, chances are your equipment is not being serviced properly.
Elite HVAC can provide you with a better solution…not just with cost effective service solutions, but also with honesty and communication. We take the time to provide you with a detailed work order explaining what was done and why, and we don't perform any services without an authorization agreement from you. Any additional work we need to do on your system will be explained and estimated in detail for you.
We're experienced with all types of rooftop HVAC equipment…we routinely work on all sizes of packaged rooftops with natural gas heaters, heat pumps, VFDs, all types of water towers and closed circuit evaporative coolers.
Our team works closely with property owners and onsite management to provide for their tenants' needs, and offering cost effective solutions. We provide a single point of contact for business owners, project managers, and management teams.
At Elite, we believe in conducting our business with honesty. It isn't about being the lowest bidder for an HVAC contract…it's about being the contractor that businesses trust. Most of our customers have chosen Elite to be their commercial HVAC contractor for over 20 years, and we remain committed to integrity and professionalism at every job.
With just one phone call to our team, you will receive an immediate response to your issue. We operate in a professional manner, discussing diagnostics and remedies only with your designated personnel.
Find out more today about how we can provide Elite HVAC services to your place of business…reach out to us today.